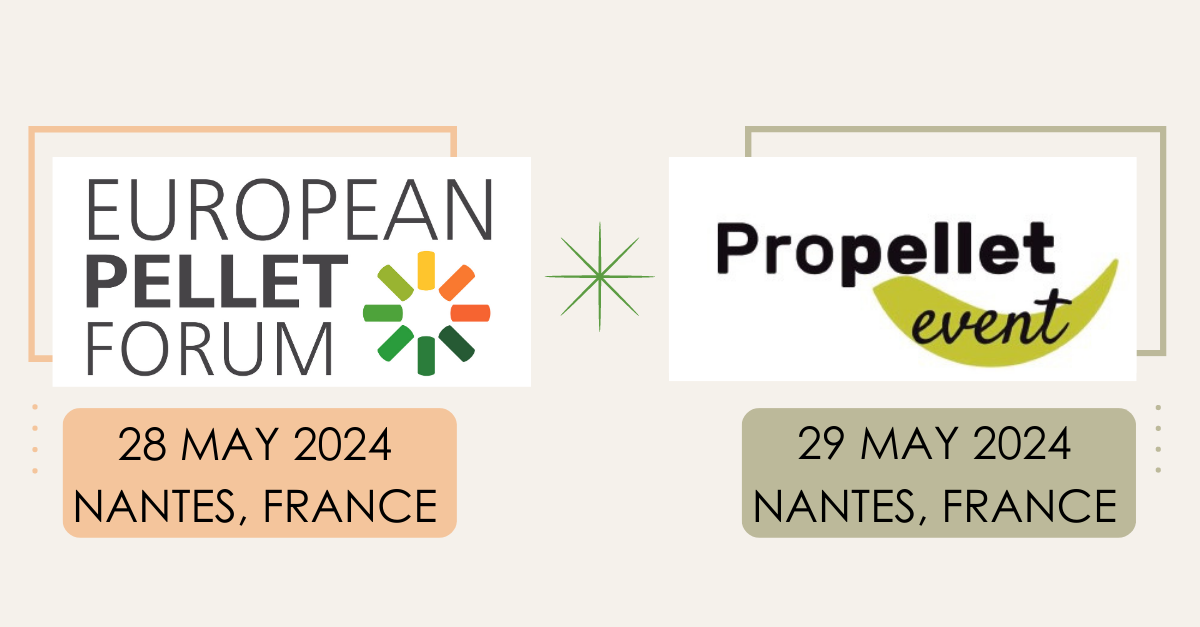 Review European Pellet Forum 18.1.2023
Many thanks to all participants who made the first European Pellet Forum on January 18, 2023, such a great success. Thanks to your participation and the experts from the pellet industry all over Europe, we can speak of a successful start of this new event series.
2022 – an eventful year from the perspective of the national pellet associations
Gilles Gauthier, formerly of Bioenergy Europe, now of Hawkins Wright, presented the developments of both industrial and residential pellet markets. 2022 saw unprecedented volatility in energy markets in general and this volatility also impacted pellet markets significantly. A surprise in his findings was the fact, that industrial pellet demand was actually lower than expected by as much as 1,5-2 Mio. tons in 2022 which might explain the collapse of prices in autumn. Before, prices were skyrocketing due to worries of undersupply following the ban of imports from Russia and Belarus. By 2025 Japan is expected to become the largest consumer of pellets globally, based on strongly expanding industrial use.
Branko Glavonjic explained the situation of the pellet industry in Southeastern Europe. Serbia is the leading pellet producer in the region, the production of certified pellets is increasing every year. However, exports are also rising, although domestic demand is growing. Prices for heating were elevating very high during the energy crisis (up to 2,5 times) until the government stepped in to limit the prices for consumers and the domestic market in summer 2022. The Market prices of all heating fuels were under governmental control at that time.
Christian Rakos of proPellets Austria focused in his presentation on the challenges in 2022 and the resulting activities in 2023. For example, a pellet hotline was set up to reassure the population and counteract a supply shortage. In spring 2023, an image campaign will be launched, to raise the image of the branche, to communicate facts and to present pellets as a good alternative to fossil fuels.
In the following panel discussion, five representatives of pellet associations in Spain, France, Germany, Poland and Italy explained their view of the situation in Europe. In France, for example, customers bought their pellets significantly earlier in 2022 than in previous years. In Germany, the price increase was a result of hoarding purchases, according to Martin Bentele. In his statement he showed himself convinced that prices would return to normal.
Challenges at the political and communication level
Irene di Padua from Bioenergy Europe gave a comprehensive overview of the current status of the Renewable Energy Directive III (REDIII), which is currently being negotiated in the European Commission. In particular, the question of how "primary wood biomass" is defined is an important one and the main focus of Bioenergy Europe. Because the influence on the pellet industry stands and falls with it according di Padua. It is welcome that several countries are against the current definition of primary wood biomass, such as France, Spain, Italy and the Nordic/Scandinavian countries.
Yana Kravtsova from Enviva addressed communication challenges of the industry. According to her, there are professional and very well financed campaigns that aim at weakening the image of biomass and forest use – which they partly succeed in doing and which have to be counteracted by communication.
Insights from the industry
After the lunch break, the participants started the afternoon with renewed energy. Several representatives of commercial enterprises explained the situation from their point of view. Recurring themes here were reliability, good communication and trust.
Lars Bloch from Andritz, a major equipment supplier for pellet manufacturing, explained that he sees a lot of development of new pellet production, especially in Asia, also in North America and to a lesser extent in South America. He also reported a growing market for pellets from agricultural byproducts and a great development potential in the African market. The current high pellet prices did not have a significant impact on the number of new projects, he observed, also, because banks find volatile markets risky.
Stefan Ortner from ÖkoFEN, a major manufacturer of pellet boiler reported, his company was able to increase pellet boiler sales within 2 years by a factor of 3.5. However, the price spike has led to a temporary collapse of sales and the big question is, if and how soon sales will recover. The potential is still huge. According to him, the future lies in heat pumps and biomass, as opposed to oil and gas. He also focused on the learnings for the industry. Facts should be communicated to avoid panic and pellet dealers have a big communicative responsibility towards the end customers. Extensive storage of pellets should be implemented to regain customer trust and prices should return to normal levels as soon as possible.
Marco Palazzetti from the company of the same name, a major Italian manufacturer of pellet stoves and logwood stovesreported, that the sharp price increase of pellets in 2022 led to different reactions. In Italy, sales of pellet stoves dropped rapidly but sales of logwood stoves increased. In Germany both pellet stove sales and logwood stove sales declined. Palazzetti has many stoves that provide usage data. These usage data show that pellet demand declined during the months of September to December 2022 compared to the same period in 2021 by 26% in France, by 18% in Germany and by 34% in Italy. While a considerable amount of this decline will be related to the warm weather during this period, less use due to high prices will certainly also play an important role. His conclusion was: "if this was a maturity test of our sector – we failed!".
Helmut Schellinger,pellet producer Schellinger KG was a little more optimistic than some others at the conference. He stated that he thinks the industry performed well regarding the extraordinary circumstances in 2022 and the challenge of providing supply security in such a volatile environment. However, as others he sees a great need to ensure that the situation of 2022 will not repeat, and that reliability is the most important asset that needs to be maintained in the eyes of the consumer. He remains optimistic that 2023 will see a recovery of markets for pellets due to continued high fossil fuel prices, sufficient availability of raw material and additional installations.
The optimistic conclusion of this block was made by Michael Christensen from CMBiomass, a major trading company both active in trading pellets for industrial and for residential use. He emphasized that there have always been and will always be enough pellets available. He added that the industry must be prepared for the market to become more volatile, simply because people will have less money. Pellets were cheap energy for 10 years before the crisis and he strongly believes that the price will stabilize again. He is convinced that when the stocks of last year are empty the prices will come down even further than now. With the most recent decline of industrial pellet prices, pellets cannot be produced for the money they are being sold at the spot market.
Voices of Science
The former presentations had already shown how important facts are as underpinnings for communicative messages. Thus, the Pellet Forum also closed with a thematic block on current findings from science.
Prof. Michael Obersteiner, professor at Oxford University, explained that arguments against bioenergy use, claiming it is detrimental for climate protection, are frequently communicated by media but do not reflect scientific knowledge. The issue of carbon opportunity costs is that using biomass has greater benefit for climate protection than the 'let the forest grow' scenario. According to Obersteiner we need a carbon abatement commitment to trigger the technologies that generate negative carbon emissions which will be also based on using bioenergy and capturing and depositing the CO2 emissions.
Prof. Hubert Röder presented the results of a very recent study coming to similar conclusions as Prof. Obersteiner. In this research, calculations were made to determine which scenarios of forest use represent the best outcome for climate protection. According to his study, the best result can be achieved in the scenario of rapid forest conversion of coniferous forests to mixed forests. Prevalent monocultures of coniferous trees cannot withstand climate change and are destroyed by insects.  Converting these forests to mixed forests will result in a higher supply of wood both for material use in construction and of residues from forestry and wood processing, that can be used for energy. These residues could supply an amount of energy equivalent to one third of European natural gas imports. Overall, by using bioenergy from these residues more than 7 Gigatons of CO2 emissions could be save cumulatively by 2050. The conversion of monocultures to mixed forests will also benefit biodiversity.
The situation is different for European deciduous forests. These may perform better if harvesting is decreased. However, there is no simple rule for the whole of Europe, as the types of forests are very different across the continent, and this needs to be considered when calculating climate friendly forest use scenarios.
Beer tapping and goulash – an Austrian close up
After an informative day full of discussions and exchange, the evening ended with rustic cuisine and local beer.
The next European Pellet Forum will take place in France in 2023. We are looking forward to many more discussions and exchanges. Watch out for announcements via Bioenergy Europe.